Behind every Audi Sport model lies a thrill seeker waiting to meet its match. Waiting to experience every jaw-dropping, heart-pounding, and hair-raising moment. The heart of racing warriors and the experience of legends before us infuse the Audi Sport DNA. We are ready to take on challenges and push the limits to raise the expectations in performance on the track and on the road-are you?
It runs in the family.
Every Audi Sport model has a long-standing heritage. A heritage that has been passed down from generation to generation. From performance to design and technology, each Audi Sport model has its own distinctive fingerprint that is unique but an extension of its ancestors before them.
Uncover what makes an Audi an Audi Sport model.
Power to the beast.
With our unrivaled pedigree in motorsport, our R and RS models are built for speed. Even though each model is designed to have its own distinctive character and sound, they are all built using the same fundamental sporting principles, to be bold and ferocious yet full of stamina and endurance. The key driving force behind the exceptional performance under the hood of an Audi Sport model is our state of the art gearbox. Available in a 7 gear S tronic or 8 gear Tiptronic, our gearbox intensifies the driving experience by shifting the precise ratio of power and torque, quickly and efficiently so you never miss a beat.
A legacy that lives on forever.
Audi Sport began 40 years ago with quattro at the forefront. With quattro, Audi brought new meaning to racecars. They became legendary for not only winning but superior handling, traction, and control in any road condition. With continued success and a passion for motorsport, Audi Sport engineers continued to develop and enhance quattro technology to test the limits in a series of racing formats; rally, Le Mans, Formula E and customer racing.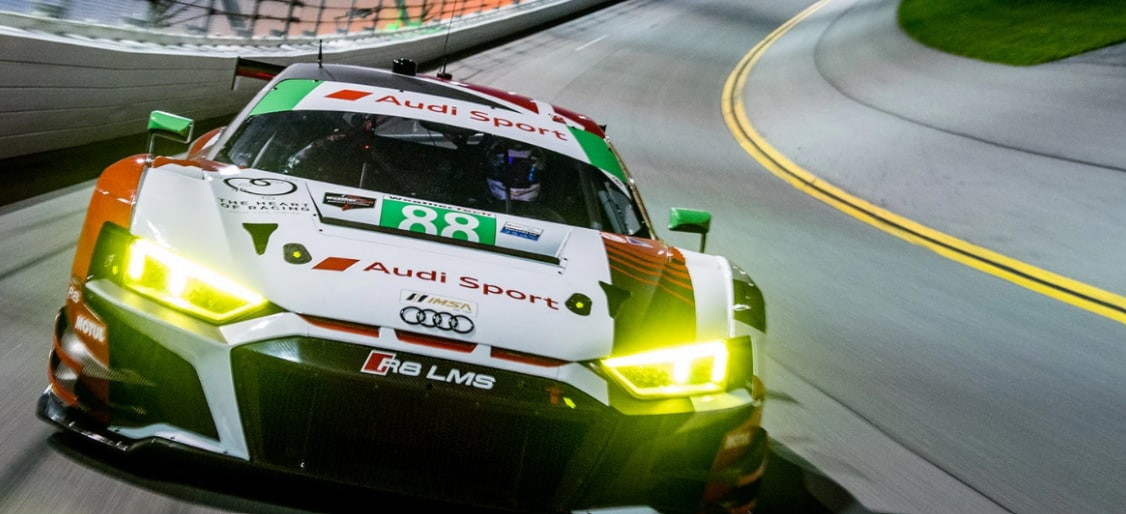 Take a look back through the history books at Audi Sport's greatest moments:
Rally
Audi Sport made its grand entrance in the rally circuit, competing for 6 years and taking home 23 world rally championships. At the Monte Carlo Rally with the Ur-quattro, Audi Sport unveiled an innovative and highly advanced all-wheel drive system to the motorsport world that revolutionized driving forever. Competing in the rally circuit allowed Audi Sport to test their capabilities and push the boundaries in motorsport.
Le Mans
For many years, Audi competed in the Le Mans racing circuit. Propelling to new heights and setting new records, Audi brought a new generation of racecar, the Audi R18 e-tron quattro. With decades of experience in motorsport, the R18 e-tron quattro was the first hybrid racecar to win in the 24 Hours of Le Mans and remained unbeaten for 3 consecutive years.
Formula E
Audi charged full speed into the future by entering a world racing series designed exclusively for electric powered vehicles. With Formula E, we were the first German manufacturer to enter and win the first Formula E racing series in Beijing. Today, we continue to dominate by claiming the winning title in the team classification for the 2018 season with the Audi e-tron FE04 and in 2017, won the driver's title.
Customer Racing
2018 marked a milestone moment for Audi in Canada. For the first time ever, the Audi Sport customer racing program made its debut in Canada. With the full line up of customer racing units to choose from, our Canadian Audi Sport enthusiasts have the option to unleash their inner racer and compete with the R8 LMS GT3, R8 LMS GT4 or RS 3 LMS TCR on the international racing circuit.
Born on the track. Built for the track.
Learn how to step off the sidelines and start racing with Audi.